Master the art of making people happy at Kyoto, Taiwa Gakuen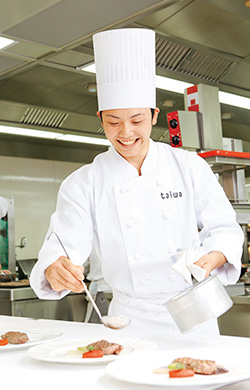 Situated in the city of Kyoto, known for its culture of hospitality, Taiwa Gakuen considers itself an "academy of hospitality." It is a comprehensive educational and research institution that offers students the opportunity to learn practical skills they can use both on the job and throughout their lives, with a focus on the fields of nutrition, medicine/welfare, cooking, confectioneries, baking, food education, hotels, bridal services, and tourism.
We make significant contributions to the local community by offering vocational school education, lifelong learning, extension courses, consulting, and other services. Taiwa Gakuen boasts top-class instructors and cutting-edge equipment and is comprised of four specialty schools.
And, the Kyoto Culinary Art College regularly produces professional cooks who excel both in skills and hospitality.
Master the art of hospitality in Kyoto, home of Japanese cuisine!